| | |
| --- | --- |
| Posted by Marina B on September 29, 2020 at 6:50 PM | |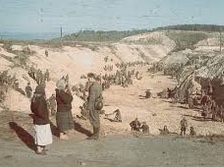 This photo, taken by a Nazi Officer in Babi Yar Sept 29-30 1941, was colorized recently.
We are each the sum of our memories and my most meaningful memories are about surviving anti-Semitism and Socialism. I even remember things I personally did not experience, but lived through the memories of others. I remember them always.
Kiev was bombed by the Nazis on June 22, 1941 at 4 a.m.
I have heard about it from all my relatives who remembered it, as well as from countless neighbors, including those non-Jews who lived in Kiev throughout the war.
My uncle Valera was born September 3, 1941 in Ural Mountains.
Counting back from his birth, I suspect that my maternal grandma, great-grandma, my uncle (10yo)and my mom (9yo), departed by train from Darnitza train station on or about August 6.
Other relatives evacuated as well.
Battle of Kiev lasted from 23 August to 26 September, 1941. My grandfather Avrum and some other relatives participated. Some dug the trenches. Avrum did at first. Then he was issued a uniform. Some time toward the end of this battle, his entire Army of Kiev Defenders was captured. So was he.
Kiev was occupied by the Nazis on September 19, 1941.
September 21, 1941 was Elul, 5701, Sunday, Erev Rosh Hashana.
How did the 40,000 or so Kiev Jews who did not evacuate for whatever reason mark it? I never thought about it until this year, 2020. Were they able to have a traditional meal with any traditional food? There was flour and water and maybe eggs and chickens in the numerous Kiev "dvoriki" yards. Did the women bake? Did they dip apples into honey? Did they pray? I assume so, because the old ones always do. And in scary times as such, so do many younger ones.
September 22, 1941 was 1st of Tishrei, 5702, Monday, Rosh Hashana 5702.
How did they spend the first day of that New Year? Who will tell me that story?
September 24, 1941 there were explosions of the ancient Kreschatik, Kiev's beautiful main artery. The Red Army hurriedly set that off in a poorly conceived and executed plan. Many Nazi officers were killed in their hotel and surrounding best buildings in the city. The Reds were captured and tortured before executions to find out of other planned defenses/attacks, depending on the perspective.
September 26, 1941, Friday. Kurt Eberhard, the field commander of Kiev, assembled a meeting and assigned the responsibility for September 24th to the Jews.
How did the Jews of Kiev spend their last Shabbat? Most of them were young enough not to practice Judaism any longer. They were good and observant socialists. But I want to think they still called to G-d on that Shabbat. Did they?
September 27, 1941, Saturday. Did the old men discuss prayers? Did the women give their kids special treats? I do not know that Kiev. I can only imagine it because of the bits and pieces I know about its history and from growing up there.
September 28, 1941, Sunday. The following notice was posted in Russian, Ukrainian and German all through the city. "All the Yids of the city of Kiev and its vicinity must appear on Monday September 29, 1941 by 8 a.m. at the corner of Melnikova and Dokhterivskaya streets (next to the cemetery). Bring documents, money and valuables, and also warm clothing, bed linen etc. Any Yids who do not follow this order and are found elsewhere will be shot. Any civilians who enter the dwellings left by Yids and appropriate the things in them will be shot".
September 29, 1941
I remember this day because it is impossible to be a Jew from Kiev and to not remember this day.
I remember it because a Russian boy, Anatoly Kuznetzov, 12 yo at the onset of the war, remembered it for me in his book Babi Yar, A Document in the Form of a Novel, a memoir he published 1966.
I remember it because Yevgeny Yevtushenko wrote a poem that was published in 1961, the year of my birth.
I remember it because a Jewish survivor, Dina Pronicheva, whom Kuznetsov interviewed, testified on January 24, 1946 at a Kiev war-crimes trial of 15 members of the German police responsible for the Kiev Region.
I remember it because for the 18 years I lived among Kievans who never ceased to call me a kike and regretted that not all Jews died in Babi Yar.
I remember it because the legless man, Grandma Reeva's neighbor, WWI survivor, said in early August 1941 to her "Germans are cultured. I was in their captivity. They treated me well." He died with his grandson, my uncle's and father's classmate Syoma, in Babi Yar. His sister jumped out of the window early in the day on the 29th. Kuznetsov mentions her, but does not know her name. I do! She was beautiful! She was 17! I remember her every year and will light a candle for her tomorrow.
September 30, 9th of Tishrei, 5702, Tuesday, Erev Yom Kippur (Yad Vashem records it as September 29)
From Einsatzgruppe C reports: "The bitter hostility of the Ukrainian population against the Jews is extremely great, because it is thought that they were responsible for the explosions in Kiev. They are also seen as NKVD informers and agents, who unleashed the terror against the Ukrainian people. All Jews were arrested in retaliation for the arson in Kiev, and altogether 33,771 Jews were executed on September 29th and 30th. Gold, valuables and clothing were collected and put at the disposal of the National-Socialist Welfare Association (NSV), for the equipment of the Volksdeutsche, and part given to the appointed city administration for distribution to the needy population".
October 01, 10th of Tishrei, 5702, Wed, Yom Kippur
From Yad Vashem: Arranging the mass executions of the Jews on the days of Soviet or Jewish holidays was a frequent occurrence and had symbolic meaning of triumph for the Germans.
Those Jews who were not murdered during the two-day massacre of late September 1941 were locked up in garages on Melnikova Street near Babi Yar. These Jews were murdered in Babi Yar by members of Einsatzkommando 5 on October 1-3, 1941.
October 05, 14th of Tishrei, 5702, Sun, Erev Sukkot -
October 06, 15th of Tishrei, 5702, Mon, Sukkot -
Zakhar Trubakov, a Jewish survivor from Kiev, remembered "I did not go myself and urged others as best I could not to go. I told many people how the Nazis had murdered the Jews of Minsk – the capital of Byelorussia. People listened but, as often happens, did not hear. They answered that they had nowhere to hide, especially those with little kids. And many simply refused to believe the worst… "
Oh, people of Israel, hear my prayer…
Categories: History